About us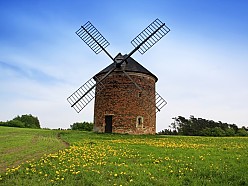 Chvalkovice village is situated 16km south-east of the town of Vyškov, below Hradisko Hill; part of the Drahany Highlands. The road from Nové Hvězdlice to Brankovice passes through the village and houses are built closes to each other on both sides of the road. A wide village square with mature trees gives a picturesque image of the village. The village is naturally divided into an upper and lower part - being situated on a hill. One cannot help but notice a recently restored windmill as the town's dominant building. Within the village proper is the Komorov Imperial Mansion with a park, though unfortunately not open to public.
The first written record of Chvalkovice is from 1347; when the Earldom of Chvalkovice was sold. However the area is known to be inhabited from an earlier era. Around 1374 a Gothic church was built followed by a spa in 1376 and a parish in 1389. In 1682 a brewery and malt house came into operation, but later these were destroyed by fire. In 1689 a school was built and was the fourth school of the canton. In 1715 the village was almost wiped out due to plague. In remembrance a plague column was built on the village square in 1718. In 1780 a new graveyard was built outside the village to replace the old graveyard situated outside the church. In 1818 a cavalier from Pabůrek built a Chapel of St. Cross complete with tomb beneath. In 1890 the fire brigade was founded followed by sports organization "Sokol" ("Falcon") in 1919.
The village had 277 inhabitants at the beginning of the millennium. The village council has moved to the former school building which includes a library with public Internet access. In 1992 a gas pipeline was brought to the village, followed later by a water mains. A grocery shop, restaurant and cultural centre can be found in the village along with sports facilities: a soccer pitch and tennis court with a summer beer garden. The village has its own soccer team. Unfortunately the local fire brigade fell apart and ceased to exist in 2002. At present there are six deputies in the village council; Mr. Ladislav Horváth is the village Mayor.
This project is co-financed by the European Union.

Chvalkovice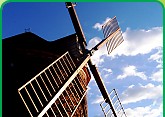 Chvalkovický mlýn
Villages
E-mail registration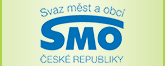 Wednesday
21.10.2020
Brigita