About us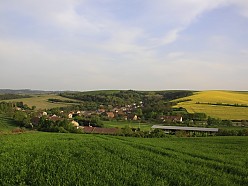 Malínky village is situated 12km east of Bučovice town. It is spread over 1.3 square miles with an average altitude of 270metres above sea level. It is a built up area in a valley traversed by the Litava River from the east. The primary road from Uherské Hradiště to Brno passes through the village.
The first written record of the village is from 1408 where a certain Jan Beličar from Malínky is mentioned. The origin of the village name is unknown. It is possible that it is derived from the personal name, Malen.
There were twenty one houses in the village before the Thirty Years War. In 1790 the village had 44 houses with 49 families. Then, in 1850, 58 houses with 289 inhabitants and in 1890 a total of 61 houses with 307 inhabitants.
The village was under rule of Půta from Lichtenburk since 1481. Later it was sold to Jan Starší from Ojnice and his family. In time the village came under the possession of the Princely Family of Liechtenstein and was part of the Bučovice Earldom.
Until 1784 Malínky belonged to Střilky parish and then to the Brankovice parish of St. Nicholas Church.
The village didn't have its own school and pupils attended school in Brankovice. In 1886 a new school was built in Brankovice partially financed by Malínky.
A severe frost at the end of May, 1860 was responsible for crop devastation. Fruit trees, corn and potatoes were frozen. In 1702 fire broke out during the harvest and six houses with two treshings burnt down. In 1727 the crop was destroyed by hail stone during a storm. In 1750 and 1756 there was so much snow it had to be carried out from the backyards to keep them accessible. The later thaw brought damaging floods. Spotted-fever plagued the village in 1822 and ten villagers died of cholera in 1836. In May,1866 another frost killed all that blossomed. In the same year the Prussian army passing through the village en route to do battle with the Austro-Hungarian Empire stole food from the local inhabitants and brought cholera.
This project is co-financed by the European Union.

Malínky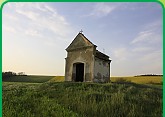 Kaplička
Villages
E-mail registration