About us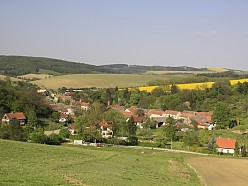 The past of Kožušice village is a great mystery and even The Homeland Study of Moravia fails to enlighten; with its few lines only mentioning that "the name Kožušice derives from a word Kožůšek". It is situated 13 km from Bučovice at an altitude of 329 meters above sea level with total cadastre area of 2.8 square miles.
The village is first mentioned in 14th century. In 1333 Jan from Kožušice bought a manor house of Dětřich from Žarůžky. The manor house is then mentioned again in 1408. A few years later Kožušice became part of Bučovice Earldom. Its seal consisted of an apple, a scythe and an axe within a circumscription of Kožušice village: agriculture has been the main source of income for centuries. There were two pubs, three shops and a mill in the village.
Fur vests used to be the custom fashion for locals. These had no buttons and were dressed on overhead.
Nowadays Kožušice has 106 inhabitants. It is situated on the international route I/50 and is the first village of the Uherskéhé-Hradiště micro region.
The natural reserve of Podsedky lies within the village cadastre. The reserve contains prairie flora, some of which are recognised as protected species.
This project is co-financed by the European Union.

Kožušice
Villages
E-mail registration