About us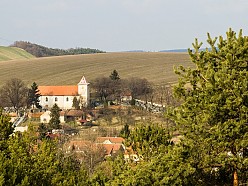 Based on archaeological findings combined with other historical data it is presumed that the original settlement on Nemotínek Hill came to be the town of Nemotice as we know it now. After the Thirty Years War this locality is mentioned in municipal tablets of 1646 as a deserted village.
The first record of Nemotice is in the Diplomatic Codex of Moravia from 1327 (CDM-UI- page 276) where it states:
I Lučko, canon of the Olomouc Chapter House, have signed my last will in the presence of witnesses Štěpán, archdeacon of Znojmo; Richard Vikář; Peter, rector of Nemotice, and others…
The next entry is in the municipal tablets of Moravia from 1371 in connection with the first owner of the village - Beneš of Ganšperk, and the presence of a fortress.
Prior to the Hussites Era, as it is known, ownership of the village changed frequently. The first owner was the abovementioned Beneš of Ganšperk, a descendent of the Doupovci clan. The clan heraldry consisted of a shield with three sunbeams and a goose preparing for flight. The heraldist Miroslav Pavlů designed the present modified version.
Beneš of Ganšperk signed away Nemotice along with the fortress, manor house and church to Raclav of Měnín.
In 1578 Jan Černohorský of Boskovice became owner of the village. He was known far and near mainly as Jan Šembera Černohorský of Boskovice, builder of Bučovice Imperial Mansion.
According to historical sources his daughter Kateřina married Maxmilian from Liechtenstein who inherited Bučovice Earldom, including Nemotice, after she died.
Historical statistics contain brief yet factual data mapping population increase of the village. The statistics mention 32 houses in Nemotice prior to 1618, then in 1784 there are 48 houses with 288 inhabitants. With regards social structure there was 28 yeomans, 12 'half-hiders' and 16 'quarter-hiders', complemented by small holders increasing in numbers from the seventeenth-century.
In 1843 there were 59 houses in Nemotice with 412 inhabitants; 199 men and 213 women. Agriculture made up the dominant livelihood. There was a flourishing mill with two grinding stones in the locality during this period. In 1849 a water corridor was built to power mills in Nemotice and Snovídky.
In 1848/49 ponds in Nemotice were gradually being drained. Sources of haulage from 1571–1575 states exactly what kind of fish were farmed in Nemotice. These were mainly carp, pike and silverfish. In 1886, the remaining ponds were drained to make way for a rail line and train station.
Census records for 1901 show Nemotice as having 111 houses and 627 inhabitants; in 1921 – 125 houses and 659 inhabitants; in 1941 - 175 houses and 745 inhabitants; in 1960 - 180 houses and 600 inhabitants; in 1980 -187 houses and 475 inhabitants; in 2000 - 196 houses and 349 inhabitants; in 2008 - 202 houses and 359 inhabitants.
The local fire brigade is involved in many cultural activities and fireman competitions as well as the Wenceslas Feast which is accompanied by folk costumes.
There is a theatre society, Three from One, which contributes to a diverse social life. The society was founded in the 1980s and has continued a tradition of amateur theatre to the present day. Nowadays mainly young people participate in this theatre society. Aside from plays, the society participates in the local garden festival, organises a fancy dress ball for children, a journey through a fairy tale forest on Children's Day and also plays a part in the Nativity scene in Milonice during Christmas.
TJ Sokol ("Falcon" sports union) maintains the town's tennis courts.
This project is co-financed by the European Union.

Nemotice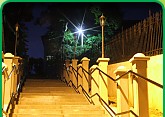 Noční schody ke kostelu
Villages
E-mail registration