Tourist attractions
Chapel of Holy Trinity - historically-protected building
Stone Cross on the village square
- historically-protected building
There were two mills within the village cadastre, however both were destroyed and only the remains of the mill wheel inflow are visible now.
Within the village cadastre lies the nature reserve of Kuče which is an extensive hillside replete with thermophilic flora. Many rare plants can be found here such as the Cowslip, Buttercup, Cut-leaf Self-heal, Sage and Hairy Violet.
Birds – Eurasian Wryneck Red-Backed Shrike
Invertebrate – Capnodes
This project is co-financed by the European Union.

Malínky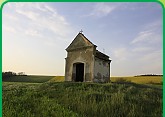 Kaplička
Villages
E-mail registration