Events
The beginning of the year is famous for balls. Approximately five balls are being held followed by fancy dress ball for children at the beginning of March. It is organised by the local Voluntary Fire brigade.
"Burning the witches" comes in April and in May an outdoor mass by the Chapel of St. John of Nepomuk. In June there is the traditional feast. The local Association of Young Scientists organises Children's Day in September. Tennis and volleyball tournaments are being held throughout the year. Also one can visit the local team's soccer matches.
This project is co-financed by the European Union.

Nesovice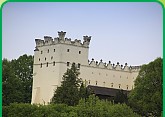 Zámek
Villages
E-mail registration