Tourism services
There are several sports pitches in the village, seasonal and all year. These include a grass-soccer pitch, tennis and volleyball courts, children's playground, school gymnasium and in summer an outdoor swimming pool with a beach volleyball pitch.
Two pubs, a restaurant, coffee shop and grocery stores offer refreshments.
There is also a post office, general practitioner, dentist and a pharmacy.
This project is co-financed by the European Union.

Nesovice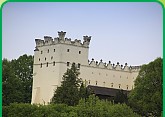 Zámek
Villages
E-mail registration